Ik heb een stapel van meer dan 50 oude (server) moederborden (sommige nog compleet met cpu en geheugen) en ben al enige tijd opzoek of ik nog wat kan doen met deze oude sets. Mijn zus had een idee om van een kaal moederbord leuke vormjes uit te halen en  dingen maken zoals een clipboard, onderzetters, oorbellen etc.
De eerste stap was dan ook met een heatgun alle onderdelen van de PCB halen. Een heatgun had ik nog niet dus speciaal een heatgun opgehaald bij de Gamma.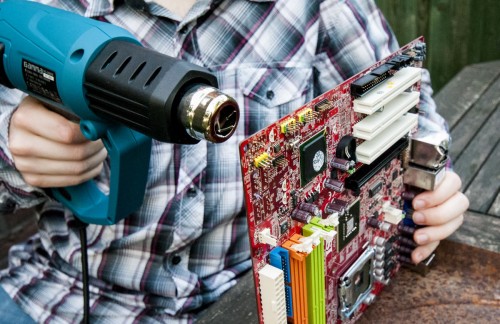 En toen begon het experimenteren. Ik had geen idee welke temperatuur het beste was om de onderdelen eraf te halen. Een te lage temperatuur had het effect dat het behoorlijk lang duurde voordat een onderdeel wou loslaten. Bij een te hoge temperatuur begonnen de onderdelen te smelten of zelfs te exploderen (ik heb 2 condensators laten knappen). De truck was om de temperatuur vrij hoog in te stellen (250 graden) maar dan niet al te lang op hetzelfde onderdeel richten en met de tang het onderdeel tegelijkertijd eraf halen (als het onderdeel niet zelf eraf valt).
En zo had ik in een avondje alle onderdelen van het bord afgehaald. De volgende stap is de PCB in de juiste formaten zagen.